The 2010-2011 NBA regular season has finally come to a close.  This is a happy time for those playoff teams of course, this group including the especially happy New York Knicks (Finally!).  However, one team is saying goodbye to their home city, as the Sacramento Kings could have played their final game in California's capital.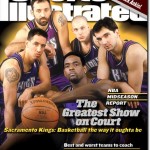 Understandably, everyone in attendance Wednesday night was emotional.  Kings fans filled Arco Arena that night knowing that there was a good chance that their beloved Kings were heading to Orange County next season. Unfortunately for the fans, the Kings lost 116-108 to the Los Angeles Lakers, a familiar foe that has crushed the hearts of Kings fans on numerous occasions.
Fans in Sacramento are very attached to their team.  Their franchise had sold out tickets in 19 of their 26 seasons in Sacramento, as the city is experiencing a tough time.  The city of Sacramento also doesn't have any other professional sports teams, so you feel for their potential loss.  I couldn't imagine what it would be like to lose a team you are passionate about and grew up with rooting for them.
This video says it all, as the announcers say their final goodbye on the air in Sacramento.  Good luck in Anaheim, where there will be a new chapter for basketball in California.