In this chapter, Briggs discusses everything there is to know about visual journalism. This type of journalism is all about telling compelling stories that connect an audience with subjects, people and issues.  As wide of a range this subject may cover, video journalism is very easy to learn.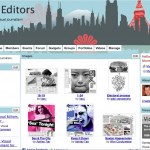 Chapter 8 is all about the following points:
Capturing quick video highlights, not documentary projects
Managing digital video on your computer
Using common software to edit video
Choosing online video hosting services
Driving audience to your video
One thing that is very important to do when using visual journalism is storyboarding.  This is what we are currently doing with our multimedia project.  Storyboarding is a visual sketch of the story, separated into different parts so it ca be organized.
Most of all, storyboarding helps you gets you to think about the focus of the story: What's the main idea you want to get across to the viewer?  That is key when starting a storyboard, because you don't want to miss the focus of the story.
Also, when shooting the video, be selective in shooting, avoid panning and zooming, hold your shots, be silent when you shoot and make sure to frame the picture and compose.
It is best to start small rather than to start big when shooting a video.  You don't want to do too much, so before heading out on an assignment, it's a good idea to get comfortable with how to shoot and what to shoot.