"Circulation is down. Ad revenue is down. Staffers are facing week-long furloughs, yet again. There are whispers that USA Today is in trouble. The classifieds business is pretty much gone. Newspapers are dying. The broadcast business isn't much better. Even the company-backed Newseum is a disaster."
That quote was taken from Mark Potts' latest blog post and I think that it speaks for itself.  The question that now remains is, what to do about that now?  Not only that but, what's Gannett, a leading media and marketing solutions company, going to do?
Change its corporate logo and slogan, of course.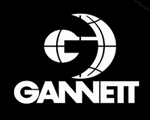 The focus of this blog post is Pott's opinion on the stupidity of this company and how changing the slogan to, "it's all within reach," gains nothing.   It also doesn't make up for laying off most of the company's designers in a cost-cutting move.
Instead of the millions used to change this slogan and logo, these dollars could have been used to keep Gannett staff from being fired, or to help create new innovations that benefitted the company.  Or why not hire a few more reporters for the company?
As Potts says many times in this blog post, "this is not so smart" at all.