Should there be any concern for the future of the newspaper industry? There are many doubters, but Joel Achenbach doesn't believe there should be anything to fear.  Why?  Because  Achenbach believes that "literature is its own reward."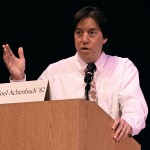 Achenbach also knows what our central medium is and what people want in terms of mediums:
"Our future is on the Web. This is the mantra in newsrooms. And the Web lets us discover how many readers each article attracts. The data can be scrutinized in real time, moment to moment. Inevitably, this is going to change the way we do business — excuse me, I mean the way we do journalism."
A central idea in this article is that news outlets will never go anywhere if they chase readers.  By collaborating with them, the readers will find their way to that outlet.  Let the reader choose what they want.  The media has a wide range of outlets, so why not be able to use them all?