The expression, "a picture is worth a thousand words" says what it means.  Each picture tells a story and each story captures a certain light.  In this chapter, Briggs discusses everything there is to know about the digital age and how it has had a greater impact on photography than any other single skill or ability.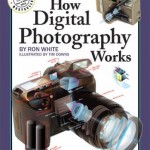 Briggs points out that digital photography is so convenient that it has led so many professions, including police officers, firefighters, real estate agents, doctors, etc.  Without digital photography, we would not see images of these professions while they are on the job.
Another factor to point out is that of time, and how more time leads to better photos.  In order to improve your photography skills, the first step is to find more time when you go out and shoot.  If there is a deadline for a photo, make sure you give yourself enough time to shoot.
The rest of the chapter is all about editing photos, cropping the photo, resizing the picture, modifying the resolution, toning and coloring to correct the picture and most of all, keeping it simple.  You do not want to get ahead of yourself and do too much.  Remember, the idea of picture taking is to get the right picture, and the rest will follow.  Getting the right picture is what matters the most.