The video conference with former Virginia Senator George Allen was an experience that should be treasured for a long time.  It's not often you can share an experience with a governor, former senator and son of a former hall of fame professional football coach.
A key topic Allen discussed was about his upcoming campaign for the 2012 election as he looks to reclaim the Republican nomination for the U.S. Senate seat.  Allen also discussed how things could have gone better back in the 2006 elections after he lost his campaign.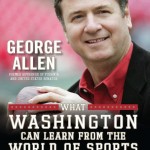 Allen has the utmost confidence for the upcoming elections.  "We will be more focused, disciplined and better prepared this time around."
He also discussed what it's like to be a part of the federal government and how it is a place where all important decisions are made and every vote counts.  However, he was quick to note that the federal government must gain some consistency, which he is trying to instill if he becomes elected again as a U.S. senator.
Another main topic focused on his book, "What Washington Can Learn From the World of Sports", in which he draws parallels and contrasts between sports and government. Allen suggests that government need look no further than the football field, baseball diamond, or basketball court to solve today's pressing problems because, in sports, teamwork is essential, cheating is frowned upon and the rules don't change.
Like in sports, Allen believes that "defense wins championships" and the government "protects liberty for all." He also stated that people cheer for their sports teams, but nobody is cheering for Washington as of right now.
Another topic discussed was the use of media, and how Allen uses the new media as a great way of communicating with people and hearing their thoughts and viewpoints to become a better candidate.  He also believed the Internet is the best invention since the Gutenberg Press for its dissemination of information.
After giving the four pillars for a fair and just society, Allen knew he was ready to reclaim that Senate seat:
Freedom of religion
Freedom of expression
Freedom of private ownership of property
Rule of law