Since this is the first of many blog items on Mark Potts' "Recovering Journalist" blog, it's necessary to go over the format that is distributed on his page.  First, there should also be a little background on who Mark Potts is and why I am blogging about his work.
Mark Potts has been a journalist for close to 20 years in both the traditional and digital field.  He has been around so long that he has written news stories on typewriters and six-ply paper.  From then to now, he has helped to invent ways to read and interact with the news and advertising on computer screens and iPads.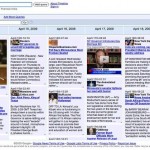 Potts is also the co-founder of WashingtonPost.com and hyperlocal pioneers Backfence.com and GrowthSpur.  He has served as editor of Philly.com; and does product-development and strategy consulting for all sorts of media and Internet companies.
The page itself is set up in an "easy to read" format that captures the eye.  There are links, pictures and articles everywhere you look.  The left column includes the "about me" section, links to his recent posts, recent comments, links to different categories he discusses in his blog posts and even a calendar.
The middle of his page includes his articles, with pictures included that are appropriate to each article.  The right column of his page includes a link to his twitter page, essential reading and my favorite part of his page, tips to read that are meant for other journalists who have been laid off.  The articles are entitled "1o Tips For Suddenly Unemployed Journalists" and"Life After Journalism," both intelligent pieces.
I can only say so much about his blog.  The rest of the page is meant for you to browse and look at, while I'll be blogging about his posts later on.  Keep in mind what Potts does; his blog layout and articles are helpful for your own blog and future blogs.