Zotero is a free program provided by the Firefox database that captures, stores and organizes a variety of information resources.  It is a program that helps create your own reference library.  The STAR workshop that I attended helped enhance my skills in citing sources and also in finding a new way to create a bibliography.  The workshop was taught by Allison O' Connor, a history professor here on campus.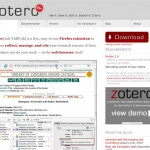 The points made in this workshop was that Zotero allows users to:
easily manage bibliographic data
add notes and highlight important information in digital form
insert citations and bibliographies into Microsoft Word or Open Office documents, using a number of citation styles
create and export bibliographies from your bibliographic data in numerous styles
This workshop was taught using the George Mason University library catalog and database.  The main points in the lecture were as follows:
Manually adding records
Capturing data from the web
Using library catalogs
Using databases
Using website citations
Organizing information in Zotero
Adding notes in citations
Searching and indexing
Adding and editing a bibliography
In this program, the process of citing a source using a given source style is made easier.  It is usually just needed to right-click on the cited item or items, then to "Create bibliography", and the citation will be copied to the user clipboard, thus ready to paste.
The bottom line of this workshop was to show a new and creative way to cite sources and to create your own reference library.